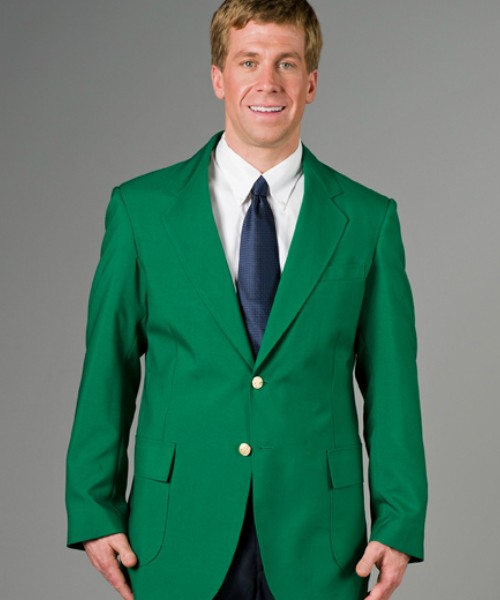 Kelly Green Mens Blazer
Our Maxwell Park Men's Blazer is 100% polyester, fully lined with inside pockets, Single breasted notch with top stitching and patch pockets. Machine Washable, water repellent finish. Available in sizes 34-64 in short, regular, long and extra long.
Product Description
Kelly Green Mens Blazer, 100% Polyester, Machine Washable.
Kelly Green Mens Blazer. Our most popular item, the durable Maxwell Park blazer is great for golf tournaments, country clubs and church groups. We carry them in a large variety of colors, which makes them perfect for teams. Great for free mason lodges, fraternities and sororities. This versatile jacket is wrinkle resistant. It features full lining and metallic buttons. This Classic blazer is rugged, yet comfortable. To fit your specific blazer needs, we stock over 20,000 blazers in 16 different colors. We carry short, regular tall and extra tall sizes. This makes them perfect for any size or build. If you wear plus size or Big & Tall, we have your fit!
The Maxwell Park Blazer is available in: Augusta Green. Black. Burgundy (maroon). Camel (Century 21 Gold – C21). Carolina Blue. Gold. Gray. Hunter Green. Kelly Green (Bright Irish Green). Navy. Orange. Pink. Purple. Red. Royal Blue. White. The Classic Blazer is available for men in short, regular, long and extra long lengths. Sizes 34 through 64. Women's sizes come in petite, regular and tall in sizes 0 through 30.
Our Maxwell Park men's and women's uniform blazers are 100% polyester. They are fully lined with inside pockets. Single breasted notch with top stitching and patch pockets. They are machine washable and wrinkle resistant. They are durable and have a water repellent finish. This makes for easy wear and care, over and over again. They are perfect for work blazers. country club jackets. golf blazers. church usher blazers. chamber of commerce meetings. free mason blazers. convention blazers and anywhere else a high quality, long-lasting blazer is called for.
While we stock up to size 64 in men's blazers, we can sometimes get up to size 68 as well. If you need a bigger size than shown, contact us by email. We may be able to special order it for you. For overstock and sale items, check out our blazer overstock web store
Tags: Green Blazer Mens, Green Mens Blazer, Kelly Green Sport Coat. Kelly Green Suit, Green Men Blazer. Mens Green Blazers, Mens Green Blazer.
Additional Information
| | |
| --- | --- |
| Size | 34, 36, 38, 40, 42, 44, 46, 48, 50, 52, 54, 56, 58, 60, 62, 64, 66 |
| Length | Short, Regular, Long, Extra Long |
Only logged in customers who have purchased this product may leave a review.